Investment Criteria
Investing in Companies with Great Products
Our focus is on making venture capital investments in small- to medium-sized companies that have or are working towards bringing to market new or unique products or services, with a sustainable competitive advantage.
Placing High Importance on Geography
The management of our portfolio companies is vital; therefore, we focus on making investments in Upstate New York and surrounding regions. This allows us to maintain close and frequent interaction. By meeting directly and often with the management of our portfolio companies, as well as their boards of directors, we are best able to monitor and evaluate their likelihood of success and maximize our returns. For those companies whose headquarters are outside of our immediate geographic area, we participate in syndicates with other investors. Additionally, this geographic area facilitates access to key technologies developed in university settings, including Cornell University.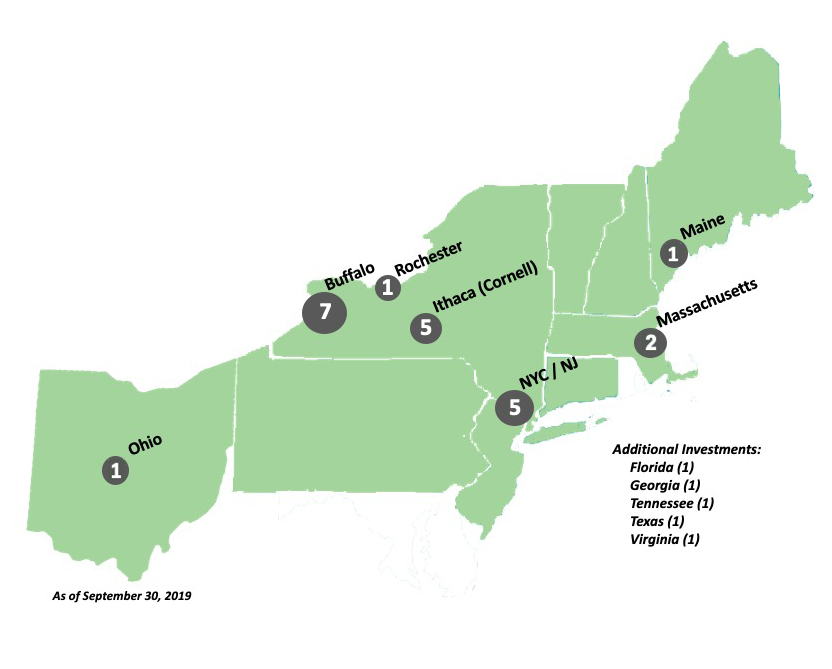 Preferences for Investing
Typical initial investments between $500,000 and $1.5 million in privately held companies
Frequently participate in three investment rounds over life of investment
Follow-on investment(s) up to a targeted maximum of $2 million to $3 million total per company
"Lead" investments in Western and Upstate New York and participate in syndicates outside this region
Partner with other investment firms
Prefer to be a minority shareholder
Seek qualified and experienced management teams
Prefer business to offer unique products or services
Present high potential for growth in revenue and cash flow; potential to realize appreciation in equity position
Often serve on the portfolio companies' Boards of Directors
Broad array of industries, except real estate ventures
Average historical investment tenure has been five to seven years
Looking for Capital to Support Your Business Growth?
We are actively seeking investment opportunities. If you are seeking capital for your business, or are aware of a business that is, please contact us.